If you're going to Costa Maya on your cruise, lucky you!  This port is one of my favorites in the Caribbean.  By the time you're finished reading this, you'll know why.
Puerto Costa Maya and nearby sleepy Mahahual were once rural fishing villages. In 2002, this region was transformed into a popular cruise ship destination. 
It was the first "manufactured" cruise port in the Caribbean, but it didn't last long.  After a year of rebuilding following Hurricane Dean's devastating impact in 2007, the cruise port of Costa Maya reopened.  And it's been growing ever since.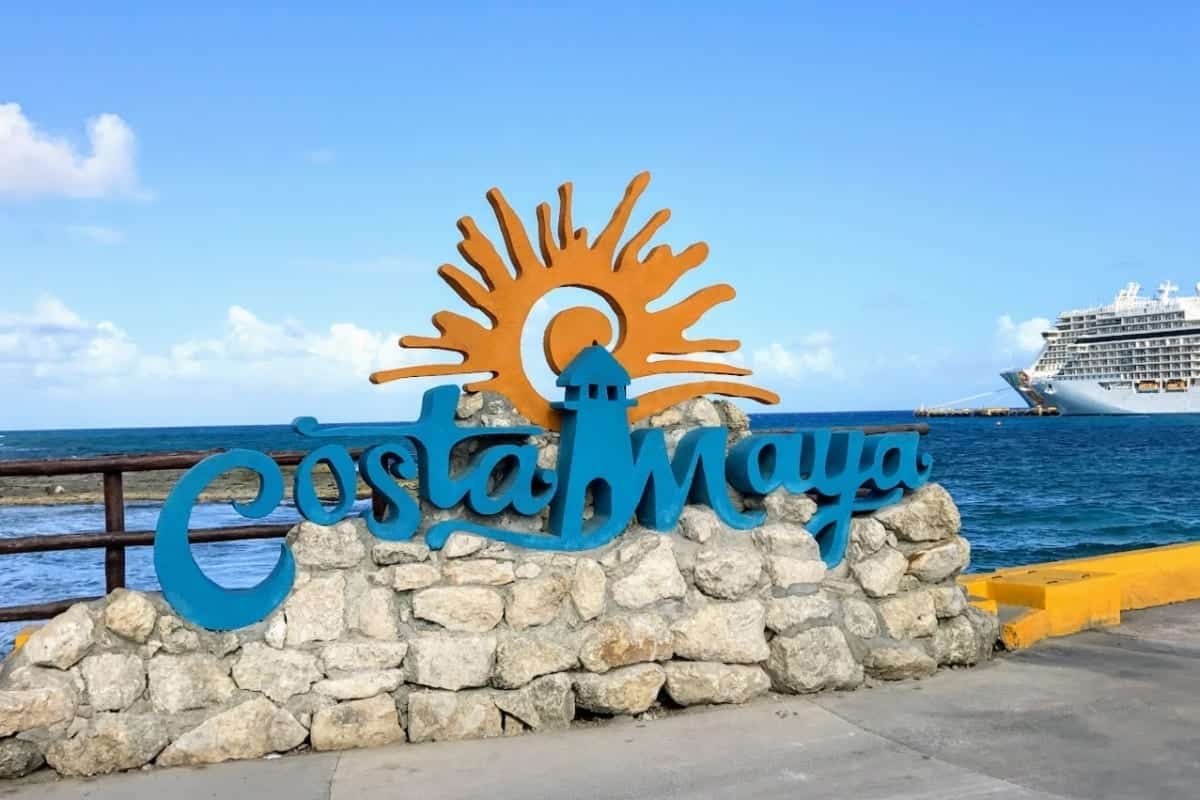 Best Things to Do In Costa Maya, Mexico
You don't have to spend a lot of money.
When your cruise is going to Costa Maya, most people wonder, "what's there to do in Costa Maya?"  Actually, a lot of people haven't heard of Costa Maya, Mexico or they've heard the name but have no clue what to do there.  Isn't that partly why you're reading this?
Every cruise line offers full-day and expensive shore excursions to visit the incredible Mayan pyramids, dolphin encounters or snorkeling.  When I'm here, I just want a really good lunch and a cold drink.  Followed by a couple of hours lounging in a beach chair and floating in the ocean.   
Here's how to do exactly that, save a bundle of cash and have one of the best port days ever.
Directions from Costa Maya Port to Mahahual Beach
Walk (or take the free tram) along the lengthy pier from your ship to the port's colorful Disney-esque entrance.
Follow the pedestrian walk along your right side, past the little shops until you see the grand staircase on your right.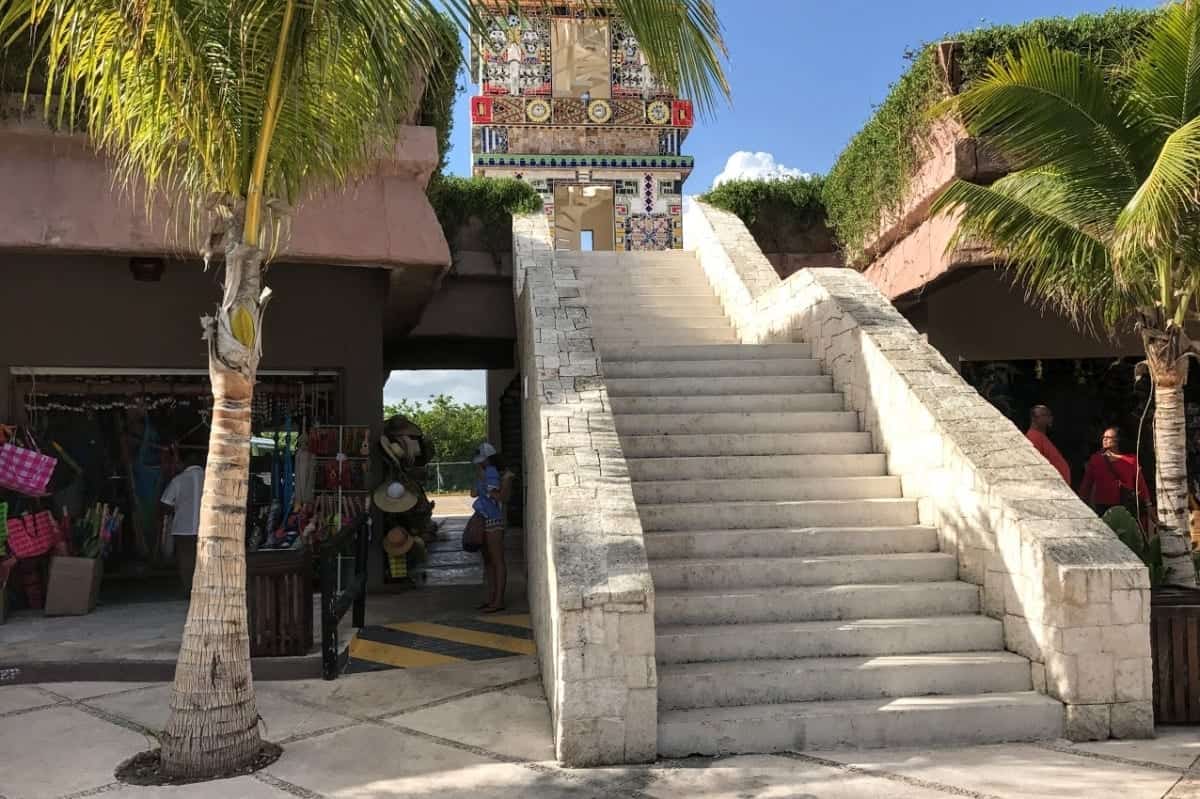 Update Dec. 2, 2021:  This little breezeway path behind the stairs is closed.  When I first wrote this article…you would see the little path between the tree and the stairs.  You could walk through there and when you emerge, you'd notice a makeshift table under a long awning to book your taxi or trolley. 
Now it's changed.  Best suggestion is to use the ship's map and walk past the stairs following the map's directions to the taxi rank, golf cart rental or trolley. 
Taxi or Trolley to the Beach
You can either buy a $3 trolley ticket or take a $4 taxi ride (all per person).  Tell whomever is driving that you want to go to 40 Canons Hotel or in Spanish, simply, Cuarenta Cañones.  It's a 10-15 minute ride until you reach the last stop at the end of the road.  The town is actually Mahahual.
If you have no back or neck issues, the trolley is fun as it happily bounces along the bumpy roads. Taxis of course provide a much smoother ride but not quite as much fun.  If you're a solo traveler, in the trolley you'll probably have a few laughs and make some some new cruise friends along the way.
Enter the whitewashed breezeway at 40 Cañones and walk towards the beach.  You can't miss it.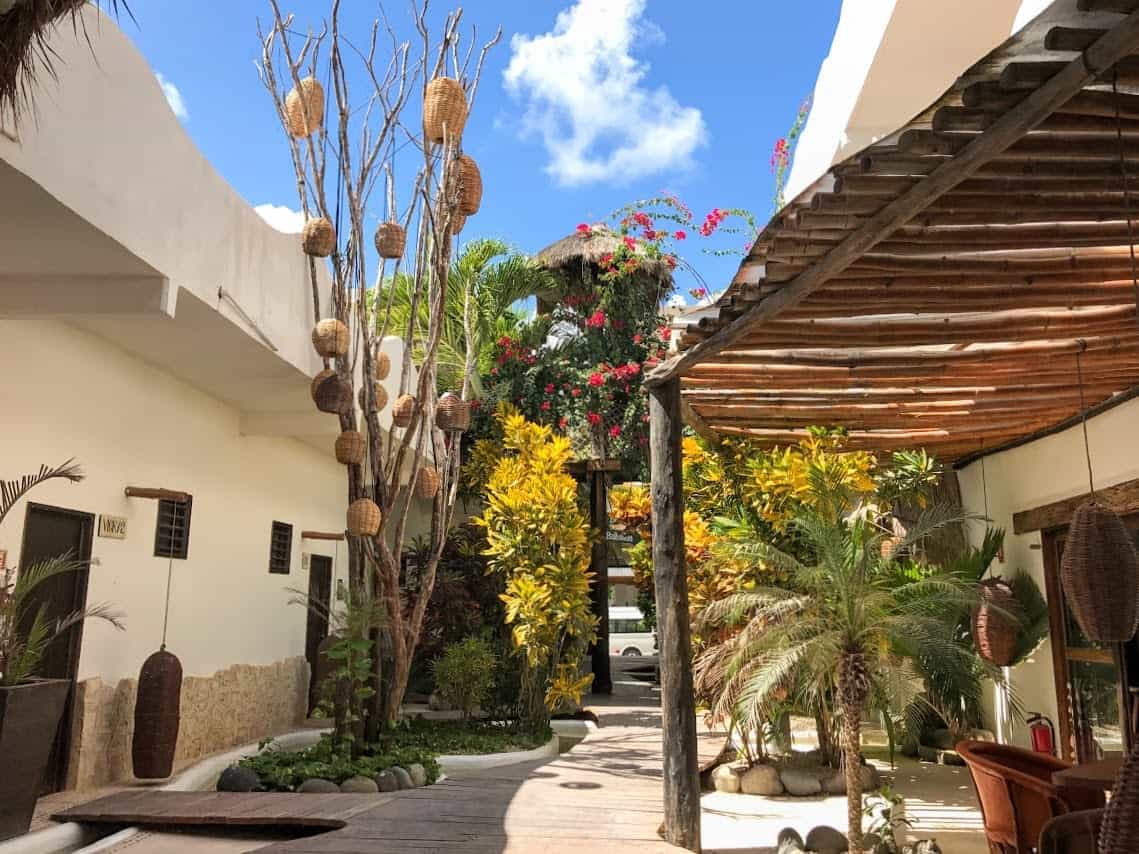 And then there's this – 40 Cañones Beach Club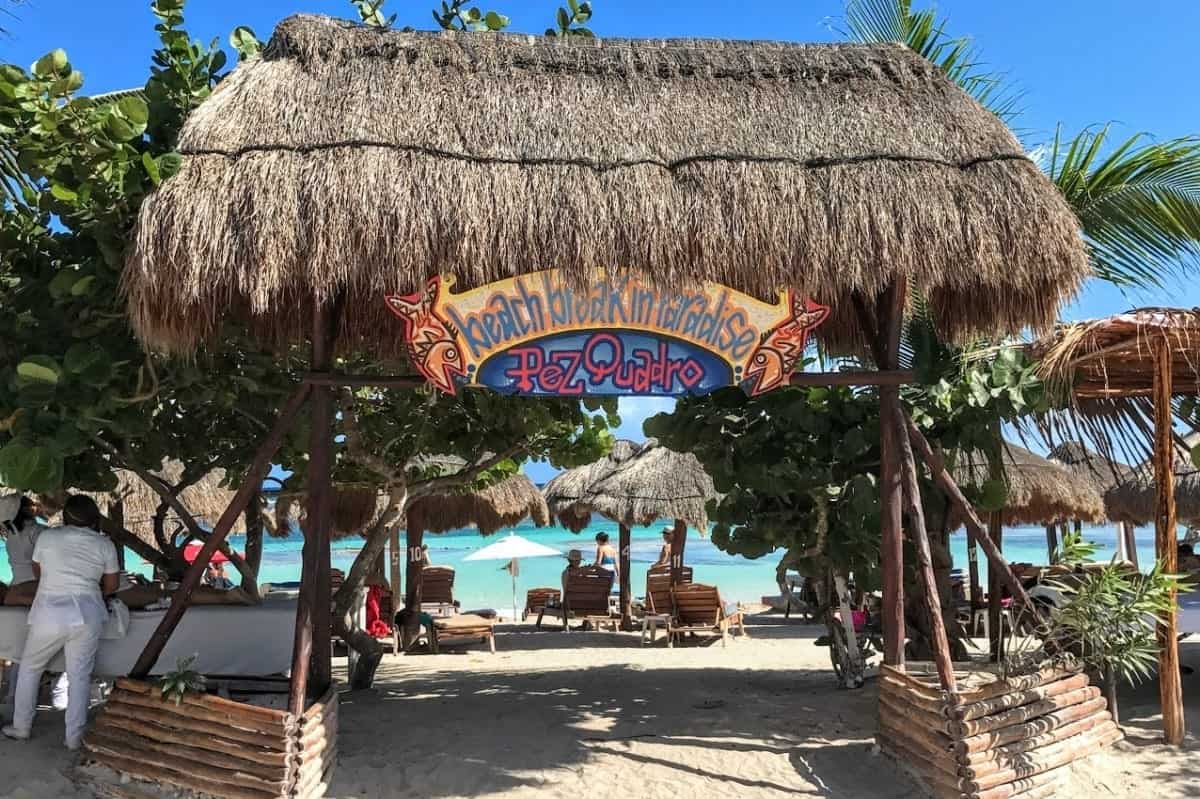 and this…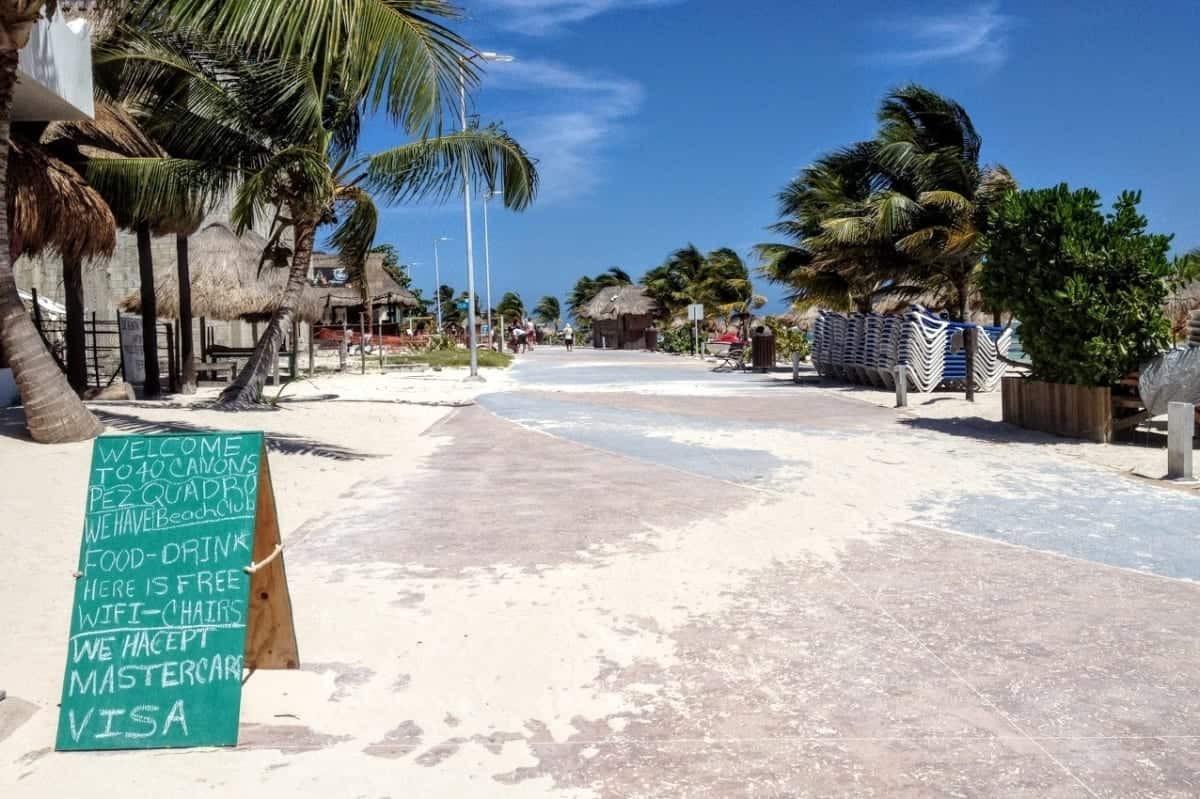 Spend the day on the beach – there are several beach clubs along this stretch of promenade.
Pez Quadro, the Beach Club at 40 Cañones, has an All You Can Drink package that also includes a meal, wifi and lounge chair for $85 per person. 
There's also an all you can drink non-alcoholic package with the same amenities for only $45 per person.
Add a lobster meal and it will cost more; $119 and $60 respectively.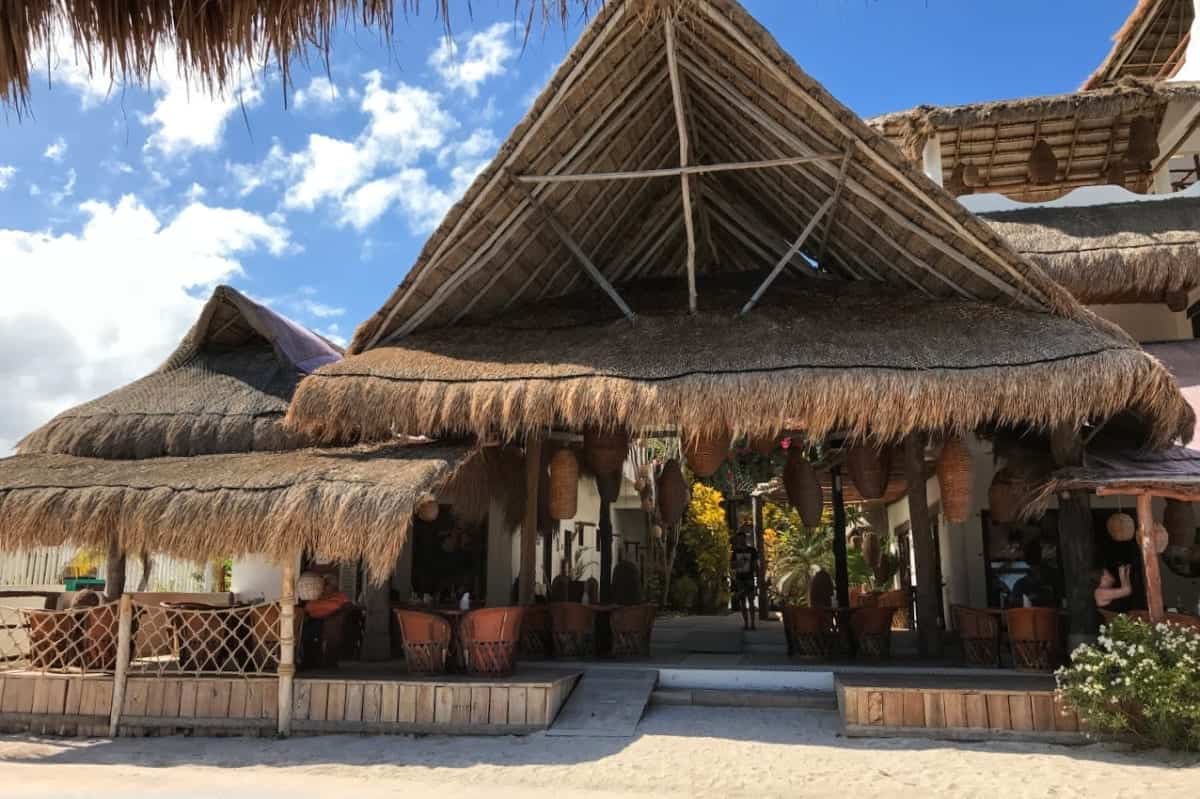 Time for a Mexican (or Italian) Lunch
Personally, I always go to the outdoor dining area at the hotel for a fabulous lunch.  Actually, at 40 Canons you can choose Italian or Mexican.  The owners are Italian and serve traditional Italian meals.
I love the shrimp fajitas.  Guacamole is awesome, too…everything there is good.  A full lunch with a drink will run from $12 to $30 depending of course if you order a fresh-caught lobster or a cheese quesadilla.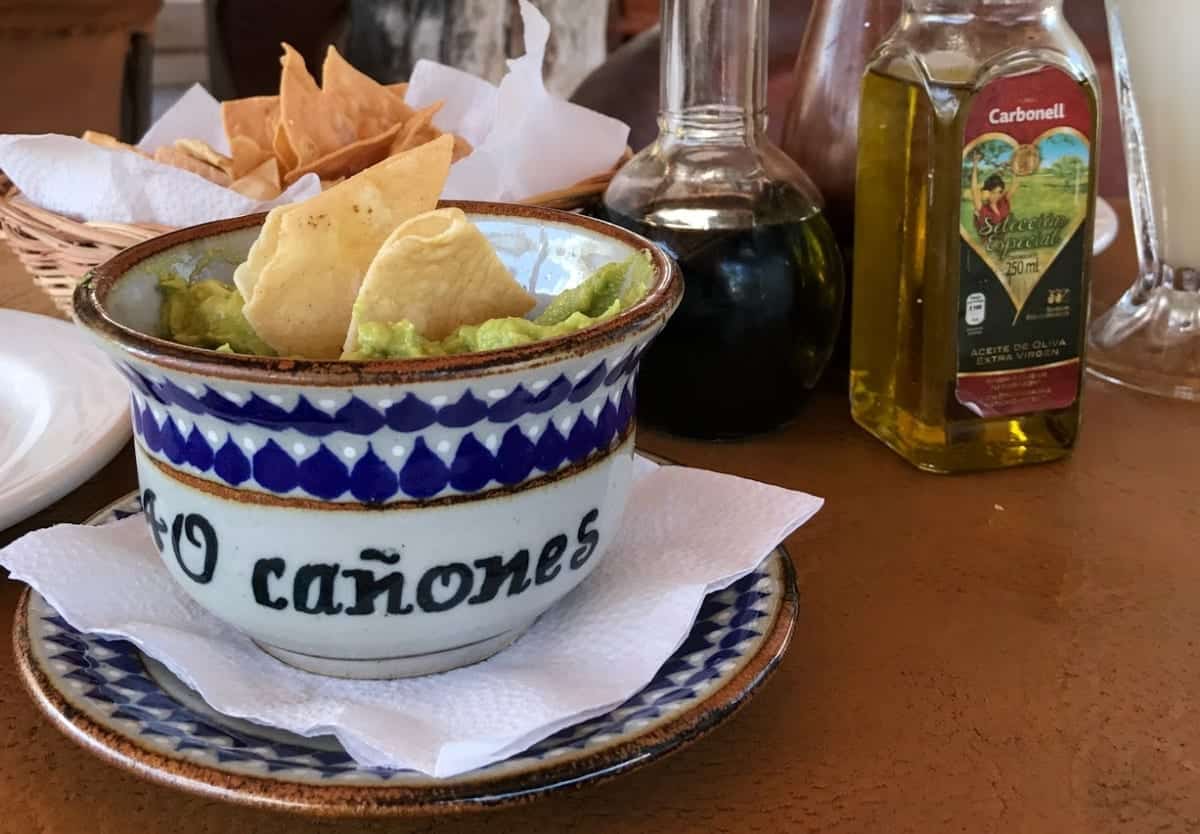 Take a walk along the promenade after lunch…maybe set yourself down on a beach chair and take a brief siesta.  You'll find the beach and town quiet, peaceful and pretty much undeveloped.
When it's time to head back to your ship (be sure to allow at least an hour) just walk back to the road through the hotel.  Taxis are usually available but leave enough time just in case you have to wait.
As you drive back to Costa Maya (for a short distance it's a different route) look for these rainbow-colored cabanas.
Once back at the cruise port, just follow the crowds out towards the pier.  You can buy any last minute souvenirs from the hundreds of stalls and shops at the complex.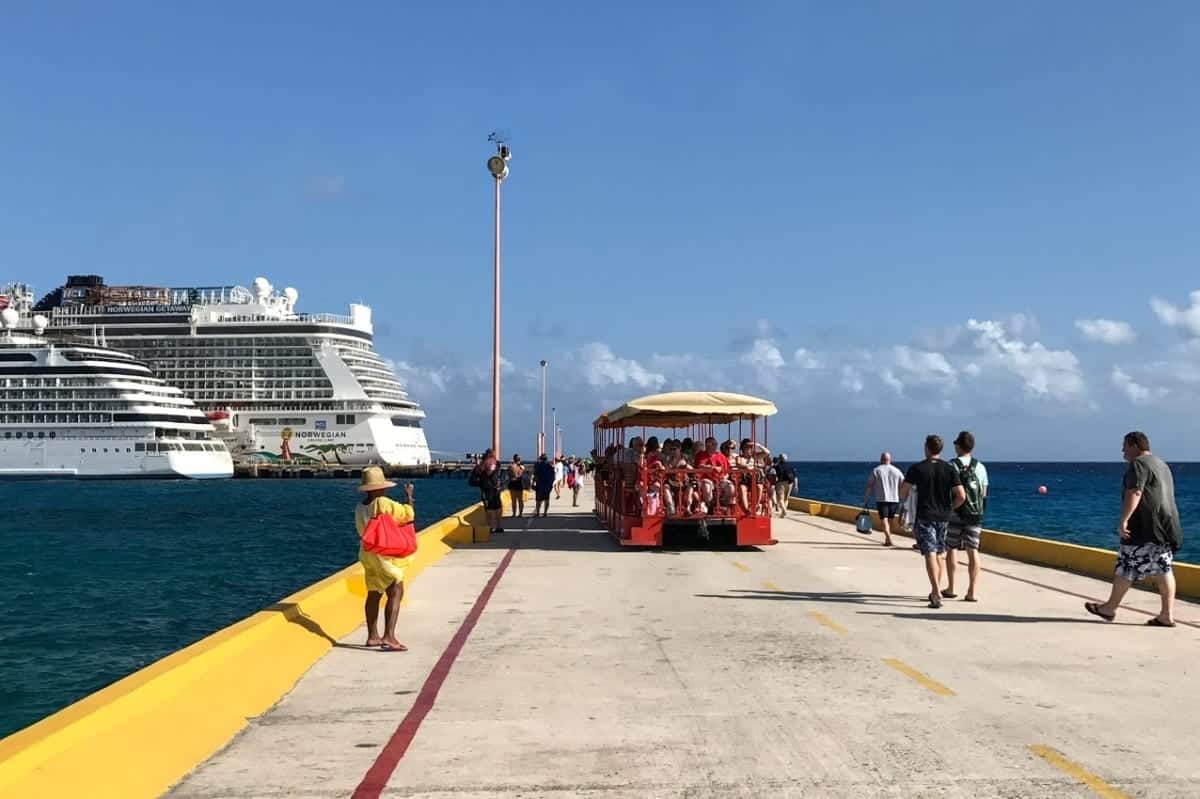 Too tired to walk?  Take the complimentary trolley back to your ship.
Seriously….You Could Have This…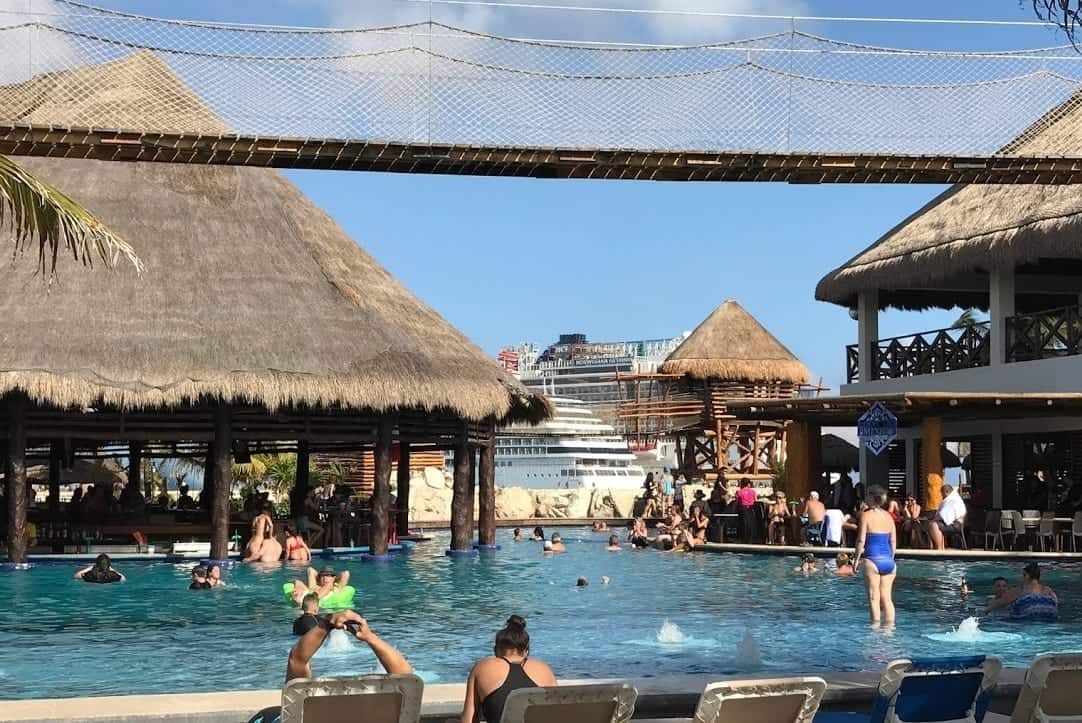 Or You Could Have This…It's Your Vacation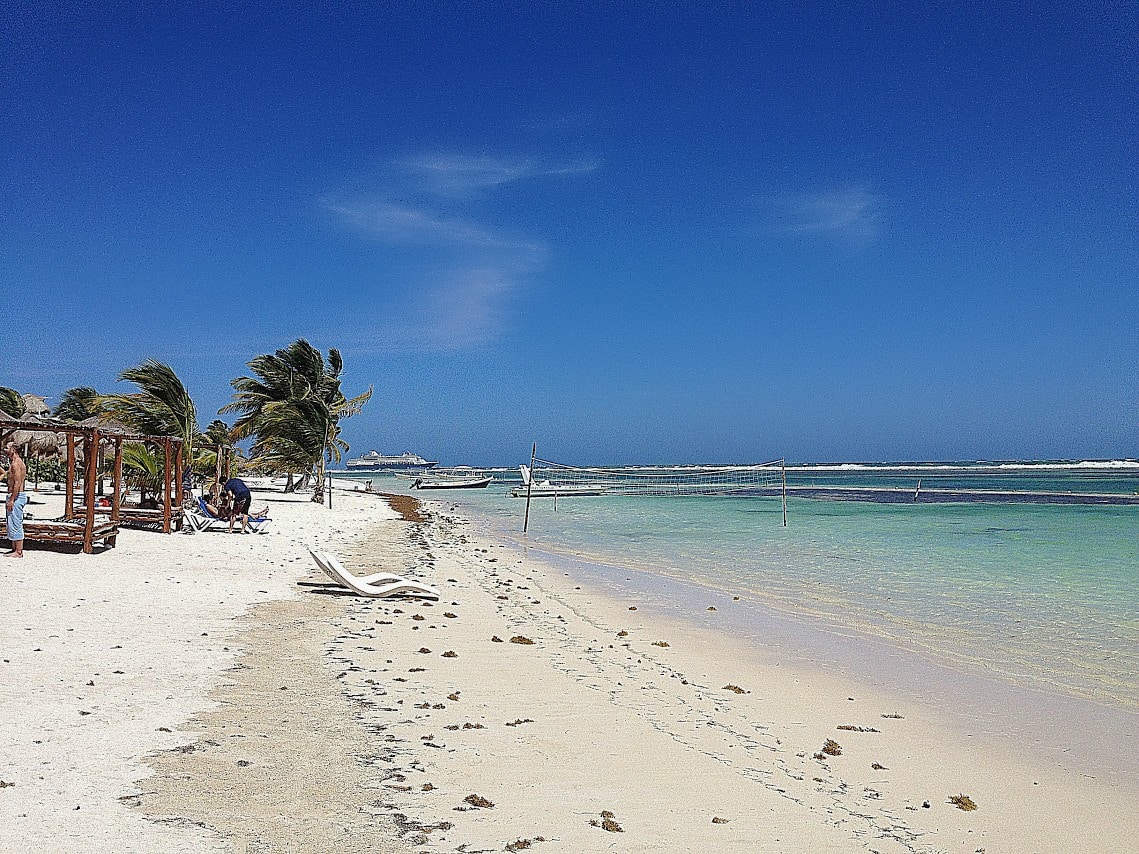 PIN AND SHARE TO YOUR FAVORITE BOARDS!

Sherry Laskin
I'm the editor and creator of CruiseMaven.com, a solo traveler cruising the world on waves and wheels, collecting recipes along the way.  I hope my articles and photos entertain, advise and inspire you to travel the world without flying.  Take a breath…stop for a local meal and a glass of wine along the way.