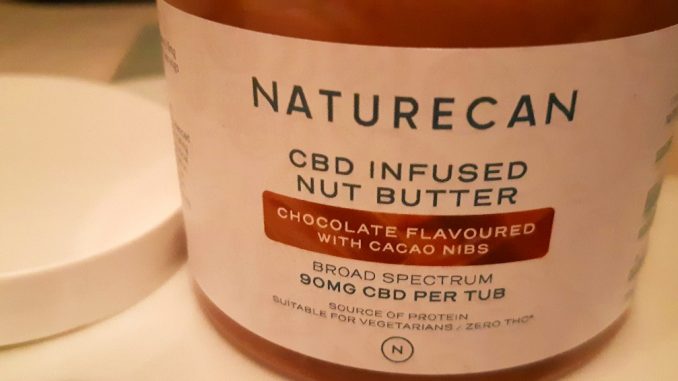 This week's CBD edibles review and up this time we have the delicious CBD infused chocolate flavour nut butter with cacao nibs from Naturecan UK.
Naturecan are a global premium CBD brand with a wide range of high quality products including CBD Oils, CBD Capsules, CBD Edibles, CBD Skincare Products, Vitamins, Supplements and much more.
Their CBD infused nutter butter range comes in four flavours including triple nut butter, crunchy peanut butter, honey sea salt peanut butter and milk chocolate, the latter which we will be reviewing today on the blog.
Naturecan's CBD infused chocolate flavoured peanut butter with cacao nibs is infused with 7.5mg of Broad-Spectrum CBD Distillate per 15g serving (1 tbsp). 90mg CBD per tub.
Suitable for vegetarians.
THC content non detectable at 0.01%.
Manufactured in the UK, using USA grown hemp.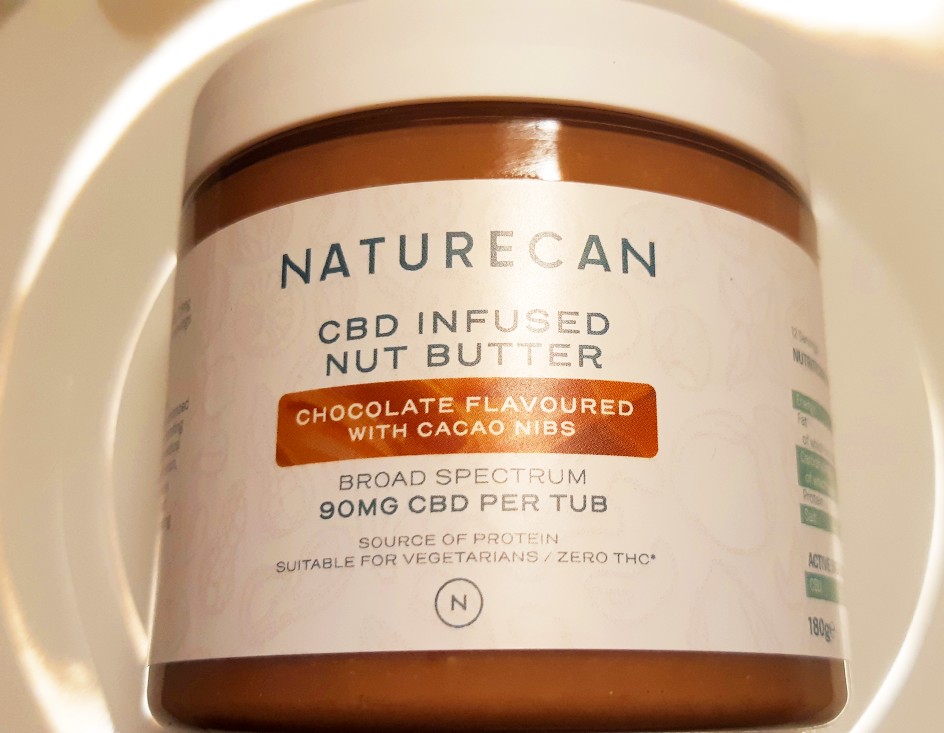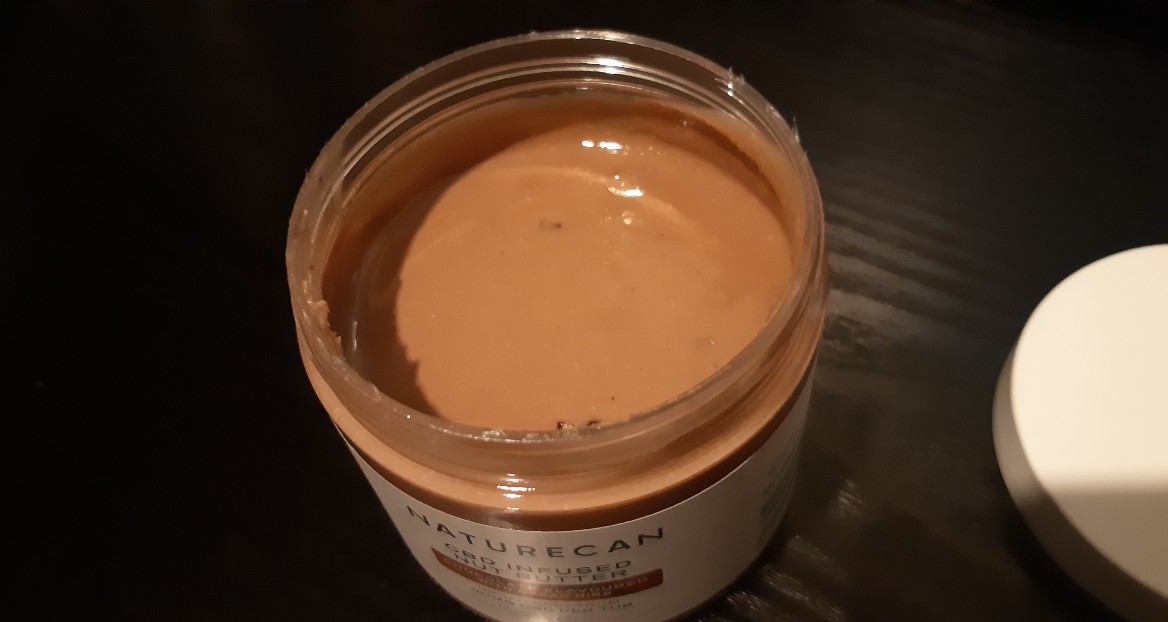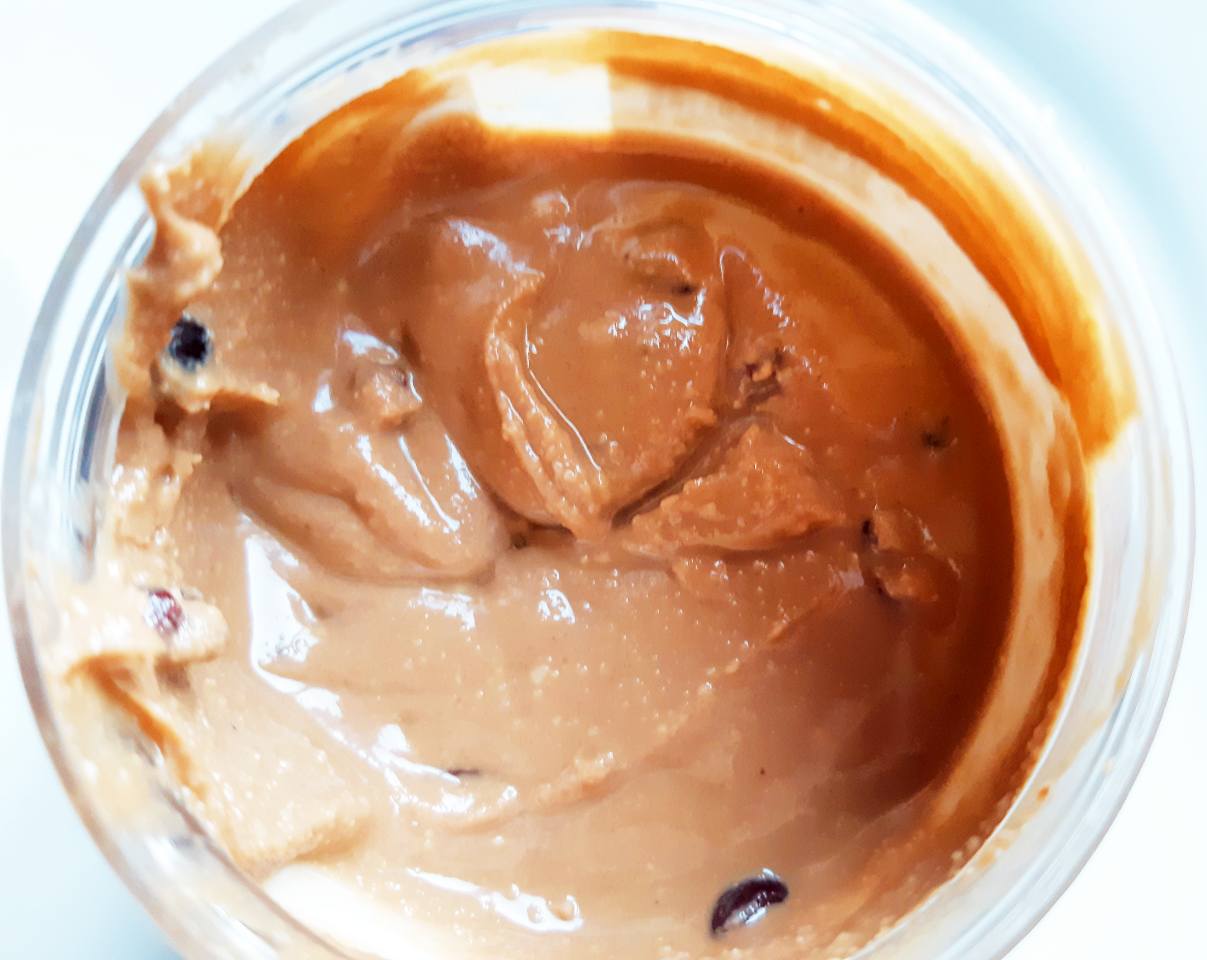 Some of Naturecan's delicious CBD infused chocolate flavoured peanut butter with cacao nibs on a soft buttery roll.
Amazing CBD infused breakfasts!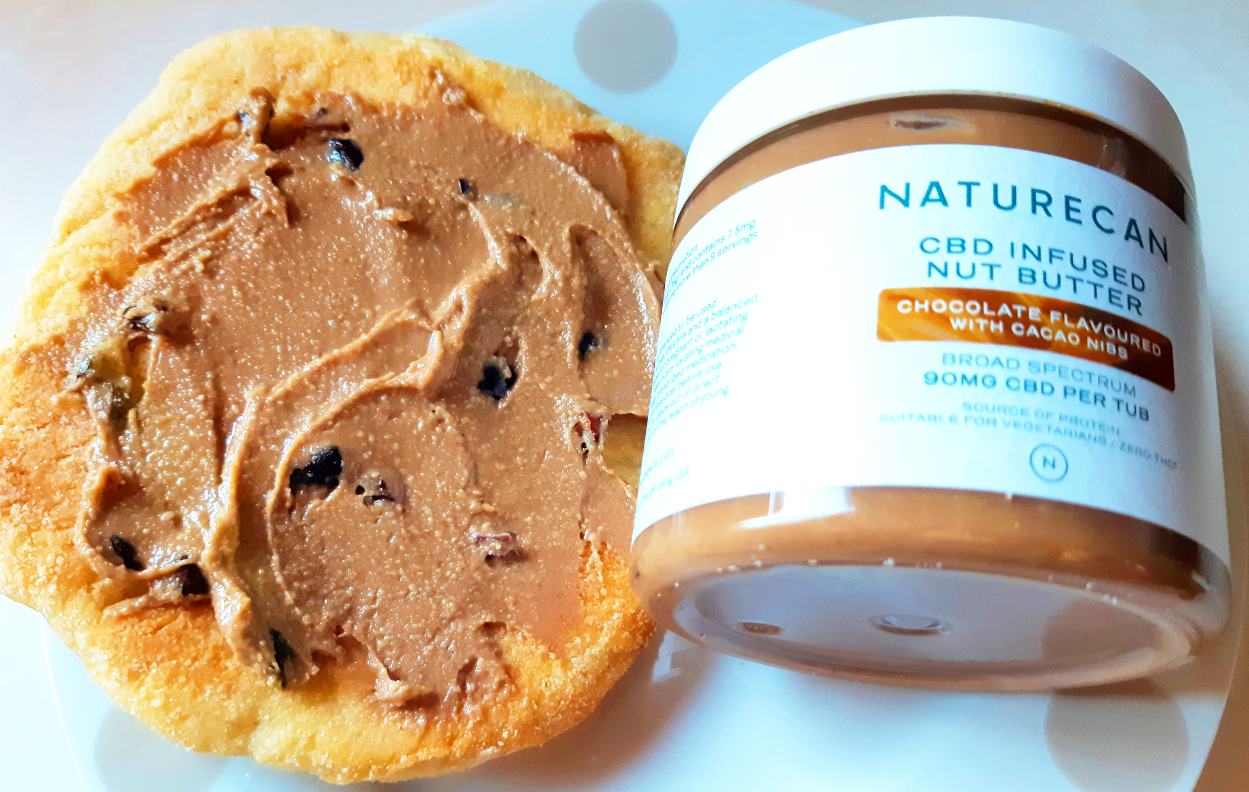 Close up picture of a big tablespoon of Naturecan's tasty CBD infused chocolate flavoured peanut butter with cacao nibs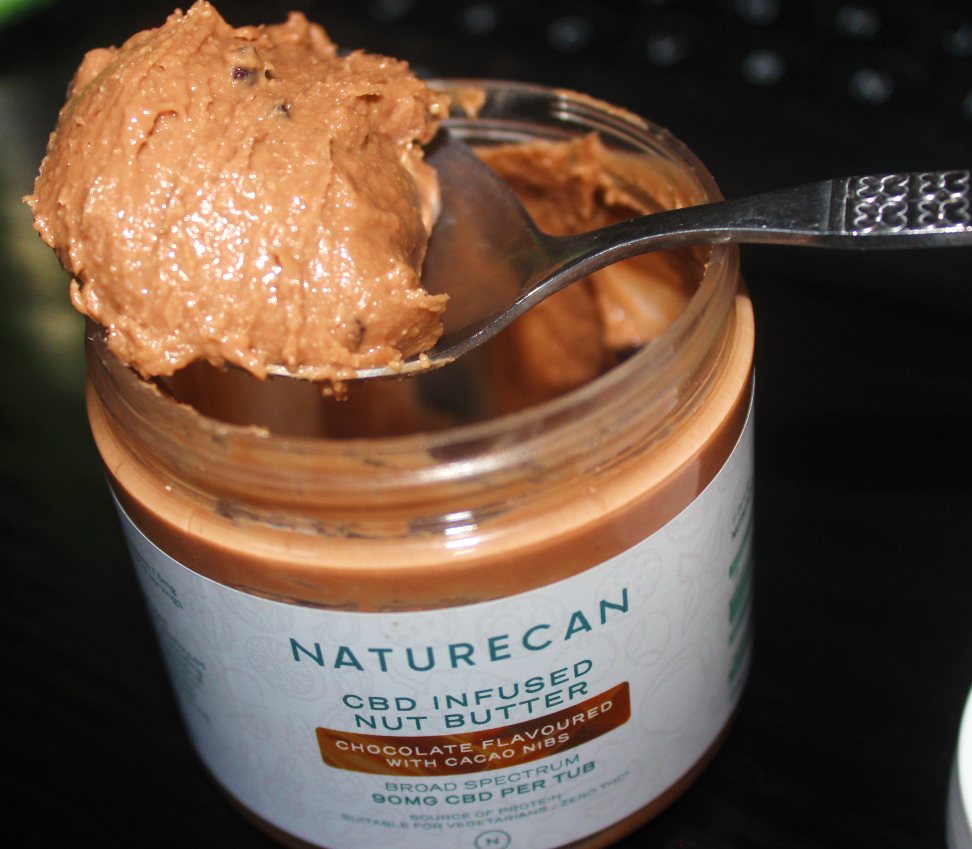 The CBD Blogger Review
Firstly I would like to start off the review by saying many thanks to Naturecan UK for generously arranging samples of their tasty CBD edibles for me to review here at The CBD Blog.
I'm a self confessed peanut and nut butter fanatic, so I have been really looking forward for a long time now to try Naturecan's range of CBD infused nut butters.
Taste & Flavours:
Absolutely amazing flavour from Naturecan's chocolate flavoured peanut butter with cacao nibs.
I have tried lots of different non-CBD infused brands of nut butters over the years and Naturecan's chocolate flavour is definitely the most delicious and tasty one I have tried to date.
A definite ten out of ten for flavour here on this one.  So moreish.
The milk chocolate flavouring synergizes really well with the peanut butter taste and nut butter texture.  It's very tempting to just polish off an entire jar if you aren't careful.
The addition of the cacao nibs adds a really nice crunch to the nut butter and are also a great source of antioxidant flavanols and other nutrients such as magnesium, copper, manganese and more.
Overall, one of the best tasting CBD infused I have reviewed so far here at The CBD Blog.
A definite one for those with a sweet tooth or the chocolate/peanut lovers out there.
Infused With 90mg Of Broad-Spectrum CBD (Cannabidiol):
Naturecan's delicious chocolate flavoured peanut butter with cacao nibs is infused with 90mg of broad-spectrum CBD (Cannabidiol) per tub.
This equates to around 7.5mg of CBD (Cannabidiol) per tablespoon of nut butter.
I was using about 1 and a half tablespoons for my morning breakfast on the likes of wholegrain toast, bread rolls or even just enjoyed straight from the spoon with a great mild relaxing, anti-anxiety CBD effect to set you up for the day and without being too tiring to impair your function.
Perfect dosage of CBD edible to both function on for work later in the day or for those new to CBD with no tolerance.
I find the broad spectrum CBD infused nut butter also to have a very calming, anti-inflammatory effect on the stomach, which is a great benefit.
Overall:
Overall I absolutely loved the CBD infused chocolate flavoured nut butter with cacao nibs from Naturecan.
A very tasty and healthy nut based CBD edible that offers a nice alternative to all the typical relatively nutrient deficient gummy products on the market.
Highly recommend Naturecan's CBD infused nut butters for individuals looking for a healthy choice of CBD edible.
Nuts and legumes such as peanuts are great sources of protein(3g per tablespoon), vitamins, minerals, dietary fiber, antioxidants and higher regular intake has been consistently associated with cardiovascular health benefits in studies.
We also have more great reviews coming soon for more of Naturecan's products including their CBD infused triple nut butter and their 5% broad-spectrum CBD Oil so keep an eye on our blog and Instagram for updates.
Information
Price
£6.99 per 180g or £11.99 per 400g jar
Ingredients
Peanuts (75%), Chocolate Flavoured Coating (20%) (Sugar, Vegetable Oil (Palm), Whey Powder (Milk), Fat Reduced Cocoa Powder, Emulsifier (Soya Lecithins), Stabiliser (Sorbitan Tristearate (Soya)), Cacao Nibs (5%), Cannabidiol (CBD) Oil (0.05%).
Allergens: For allergens, see ingredients in bold. May also contain tree nuts
Allergens in bold.
Where To Purchase
For more information or to purchase check out Naturecan UK at: Naturecan UK