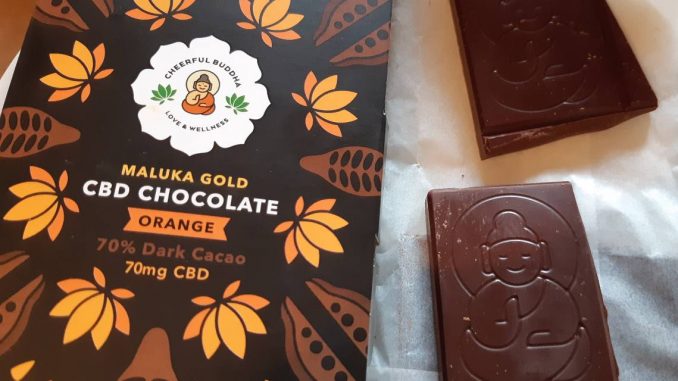 This week's CBD edibles review at The CBD Blog and up this time we have the delicious handcrafted 'Bean-to-Bar' CBD Infused Orange 70% dark chocolate bar from Cheerful Buddah.
Cheerful Buddah are a United Kingdom based company founded in 2019 who provide a range of high quality CBD infused products such as their CBD infused coffee, CBD infused chocolate bars, CBD drops.
They also produce a range of Superfood products such as their Medicinal Mushroom (Reishi, Chaga, Lion's Mane) infused coffees for health and well-being.
Cheerful Buddah describe their CBD infused 70% dark chocolate bar as a: Luxury 'bean to bar' 70% dark chocolate from a single-estate on the Seram Island of Indonesia's Maluku province.
A delicious cacao with a spicy, sensory profile, precision infused with UK hemp-derived CBD. 
Each bar contains 70mg Hemp-derived CBD carried in MCT Coconut oil
Suitable for vegans.
Completely free from animal Products, Palm Oil, Unrefined Sugar Only and No Emulsifiers.
Cheerful Buddah's CBD infused dark chocolate bars come in three flavours including natural, mint and orange.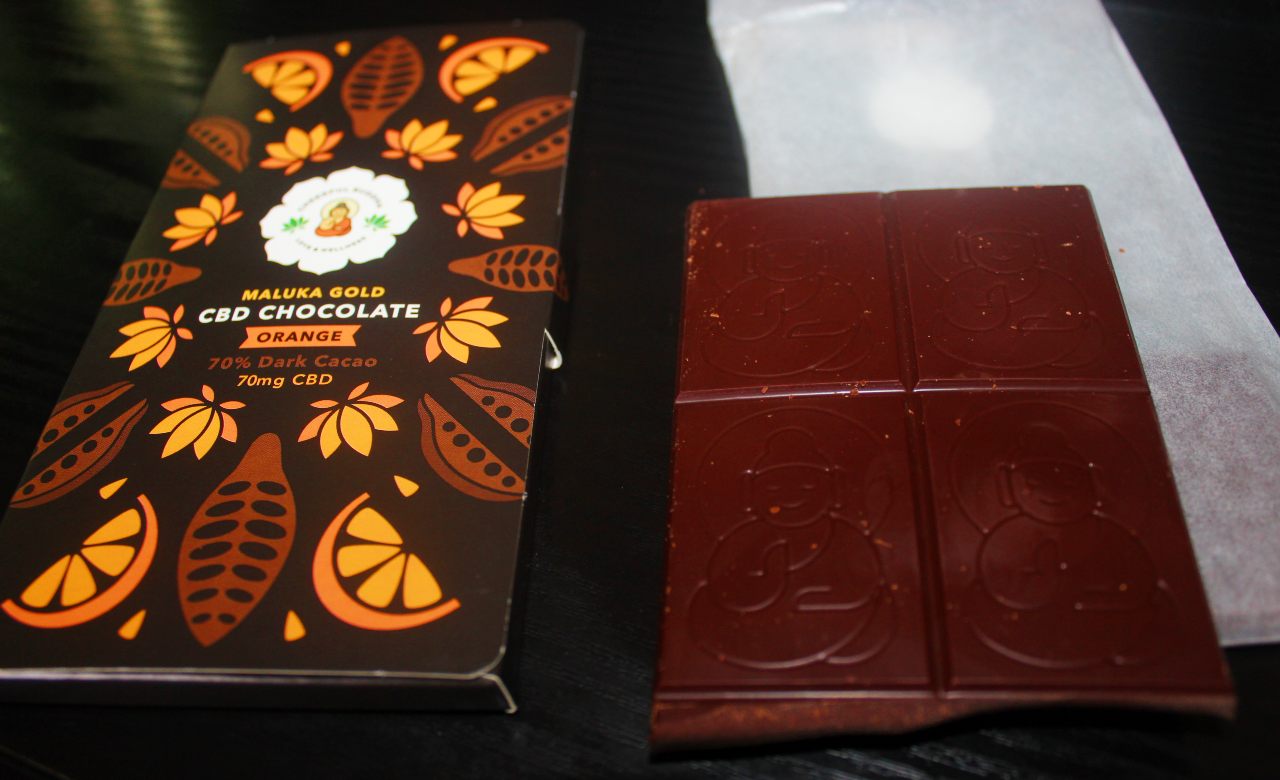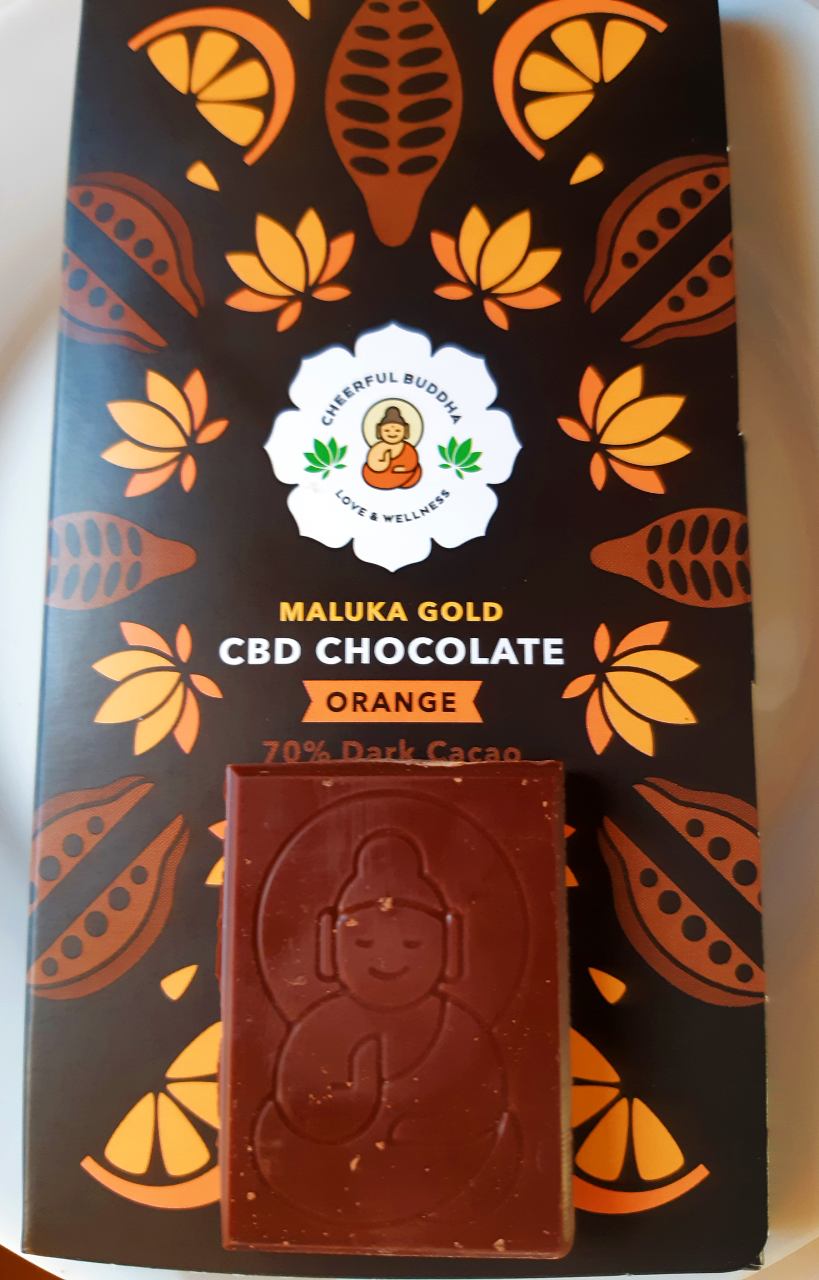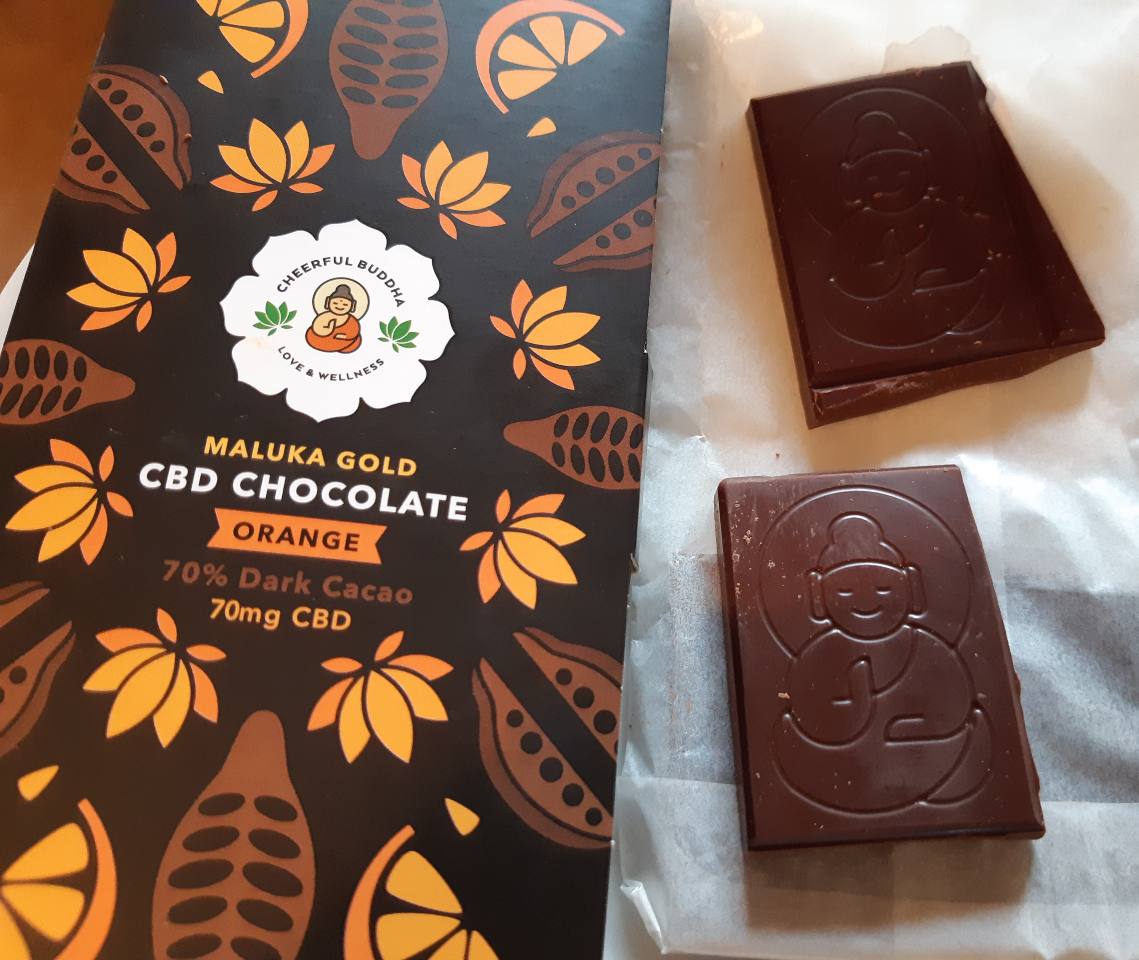 The CBD Blogger Review
Firstly I would like to start off the review by saying many thanks to Cheerful Buddah for providing the very generous samples to review here at The CBD Blog.
To the best of my knowledge I think this may be the first CBD infused dark chocolate bar that we have reviewed here at The CBD Blog.
I'm a huge lover of all things chocolate, cocoa and cacao, so I was really looking forward to sampling Cheerful Buddah's CBD infused dark chocolate bars.
Firstly presentation wise Cheerful Buddah's handcrafted "Bean-to-Bar" CBD infused 70% Dark Chocolate bars come in an amazing branded box type packaging.
Inside the handcrafted luxury dark chocolate come sealed in paper complete with a Cheerful Buddah sticker.
Anyway let's get straight onto the amazing flavours and taste of Cheerful Buddah's CBD infused 70% dark chocolate bar with the review.
Taste & Flavour:
Absolutely delicious tasting dark chocolate.
Very smooth, creamy, velvety chocolate.
The taste is more towards a milk chocolate bar than it is a dark chocolate, no bitter flavour for those who don't care for the bitterness of high cocoa dark chocolate.
I'm giving Cheerful Buddah's CBD infused 70% dark chocolate bar, a 10 out of 10 for taste and flavour here.
Very tasty, a square of the dark chocolate just melts in your mouth.
A definite one for the CBD and chocolate lovers out there.
CBD + Dark Chocolate – The Healthy CBD Edible:
Cheerful Buddah's CBD Infused 70% Dark Chocolate bar is the perfect healthy choice of CBD edible.
The ingredients are simple and all decently healthy for a treat, containing 70% cacao, unrefined sugar, organic MCT coconut oil, hemp derived CBD and natural orange oil for flavouring.
High-flavanol cocoa(70%+) has many proven cardiovascular related health benefits such as improving endothelial function and lowering blood pressure.
MCT coconut oil is also another amazing superfood in itself and is one of my favorite carrier oils for CBD.
Cheerful Buddah's CBD 70% Dark Chocolate bars are infused with 70mg UK Hemp-derived CBD per bar.
So overall it makes for a very health choice of CBD edible compared to all the refined sugar laden gummies that offer relatively no nutritional value or polyphenols in the way dark chocolate does.
A few pieces of Cheerful Buddah's CBD chocolate goes amazing with their CBD infused coffees, which also has a very velvety, smooth, delicious flavour and texture.
A cup of their CBD coffee and a few squares of the CBD chocolate makes for the perfect chilled relaxing afternoon.
Overall:
Overall I thoroughly enjoyed my CBD infused 70% dark chocolate bar from Cheerful Buddah and can't wait to try their other flavours such as the mint.
I have sampled countless different brands of dark chocolate bars over the years and Cheerful Buddahs is definitely one of the nicest dark chocolates I have tried for taste, before we get to the bonus of being infused with CBD.
Generously priced for a CBD infused dark chocolate bar and has a really pleasant relaxing effect for 1-2 squares.
We also have more reviews coming soon for Cheerful Buddah's amazing CBD products including their CBD infused Colombian ground coffee, their decaffeinated CBD infused Single Origin Guatemala Swiss Method ground coffee and their citrus flavour 5% CBD drops.
Highly recommend Cheerful Buddah as a retailer for high quality CBD infused edibles and coffee.
Information
Price
£5.95 per bar
Ingredients
Cacao 70%, unrefined sugar 29%
630mg organic MCT Coconut oil
70mg Hemp-derived CBD
Natural Orange Oil
Where To Purchase
For more information or to purchase check out Cheerful Buddah at: Cheerful Buddah